18

03

ARE THESE NGOS FUNDED BY GEORGE SOROS OSF?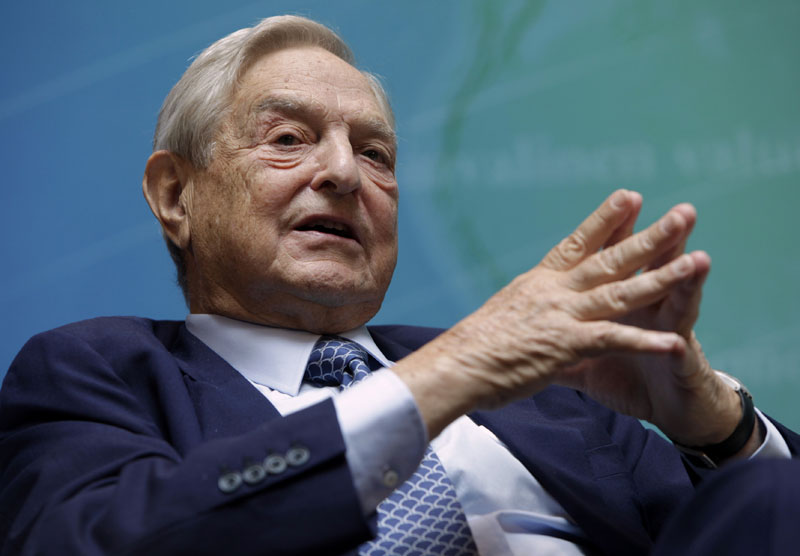 The ugly hand of neo-colonialism and imperialism has again shown its head in the after-math of a peaceful election in Kenya.  The same Open Society Foundation (OSF) and African Centre for Open Governance (Africog) that brought the misery on Kenya in 2007- 2008 are at it again .  George Soros foundation bankrolled the chaos of 2007-2008.  Kenyans must ask hard questions as to how an African center for open governance receives money from ultra-white nationalistic agency controlled by USA intelligence to main the same Africans whom they claim to advocate for in governance.
In 2007-2008 after the election date there was calm and then the same NGOS with the help of  this OSF an     American CIA affiliated   agency   triggered the violence that killed 1300 people and displaced over 600, 000 people. They  poured huge amounts of money into Kenya that  caused political  havoc in 2007- 2008.  In 2013 the same NGOs linked to a CIA plot are trying to confuse and distort the minds of Kenyans who endured the African Savannah heat and voted in huge numbers on 4th March 2013.
A cursory look at Kenyan voter registration exercise and the final total numbers of voters registered from each strong holds of whatever side one had wanted to vote that day, showed a straight win for the Jubilee  coalition of  Uhuru Kenyatta.  A good political  and media analyst of high caliber and a Pan Africanist like me (not funded by white Ultra nationalistic agencies) would see a first round win coming in Kenyan elections.
The tyranny of numbers, the voting behavior and patterns in Kenyan politics for many years, would vindicate any   good political science student like me that victory was to come on the first tally of votes and count in 2013  based on the leveled ground and superb organizational structures of the IEBC that I saw in Kenyan elections in 2013 there was no run off.  I want to commend the good work of the IEBC Chairman and his commissioners who put up a spirited and organized    election based on good rules under the new constitution that delivered the best elections so far in Kenyan history.
Frankly speaking machines are machines. A credit card can embarrass  you on a holiday with your family in foreign land by refusing at the hour of departure but this does not mean the bank is corrupted and your money is stolen. All these noises by western paid civil society of Kenya  about computers  and machines not working when the real constitutional method of tallying votes is by manual counting is insanity of the highest degree in Africa.
I want to be candid and state that it is only those who stopped outside serious class rooms in our villages in East Africa or paid for street degrees in America like Mr.  Prof.Makau Mutua ( one of Uhuru Kenyatta's hunters)  who cannot see the tyranny of numbers formula winning the recently concluded Kenyan elections. I am one of those who stood by and still stand by the analysis of my learned friend Mr.  Mutahi Ngunyi that it was going to be round one due to the tyranny of numbers. Obama won because of tyranny numbers and political blocs of black vote, Jewish lobby and others in the USA.  In elections it is the numbers that matter and it is up to the political grounds to look for those numbers. One can cry blood but believe or not one side of the Kenyan coalitions had the massive numbers.
I personally have no room for the OSF and KPJ lectures that IEBC created numbers in the 2013 election. Those wishing to drag this hub of Africa into a conclave of anarchy like George Soros must be warned that Africa is watching and closely monitoring their plans.
Even if the Supreme Court of Kenya ordered for a re-run (which is unlikely) the tyranny of numbers will this time produce "a total washout" for the loser in Kenyan elections and the winner might get over 75% of the vote cast.  During the registration those who use mass hysteria politics slept and they drunk into the waters of Haifa and forgot to tell their supporters to register.   They depended on outside help from NGOS.
Open Society Foundation and   western world sponsorship of chaos in African elections is well documented.  I would like the world to know the following facts about OSF operations in Africa.
In 2007- 2008 the Open Society Foundation of George Soros  sponsored  NGOs in Kenya  to  look for fake  ICC witnesses ,to coach witness , to fund  Kenyan  lawless organizations to kill and main Kenyans. These actions are again being fronted by OSF. The same Africog is the organization that initiated and instigated the initial troubles in the Rift Valley by inciting a section of the tribes there.
A good example of how OSF  worked in Kenya was the scenario in ICC case one of Uhuru Kenyatta where  witness  Mr.  James  Maina Kabutu ( OTP 4) whom  the OSF paid to lie  and gave a fake diplomatic passport in the names of Peter Karanja to travel back so as  destroy the political careers of President elect and Deputy President elect Uhuru Kenyatta  and William Ruto respectively. Some of the top names of OSF who arranged such fraudulent acts against the people of Kenya are again in 2013 the same ones who are
I see another silent hand of corrupted NGOs operating under the umbrella of OSF trying to create conflict among Kenyans. The strategy of "double entry" in filing of petition cases in the Supreme Court of  Kenya is a suspect because one case is weaker than the other one .The civil society cases filed against the IEBC are not a shock to me given the collapse of first mater plan of the western sponsored candidates in Kenyan elections.
Without mincing words I will state here that it is the dismal performance of the African looters of OSF money that is on trial at the Supreme Court but not the IEBC incompetence. The IEBC did a great job managing such a huge election in Africa. The lust for money by lawyer Harun Ndubi and Kegero who are the same 2007- 2008 framers of charges against Uhuru and Ruto    has triggered the petition not the merits of the petition.
It is not the IEBC credibility on trial but the credibility of the foreign sponsored and funded NGOS in Kenya  who fleece the hapless white dominated  funders and deliver  empty air  that  is  affected. Kenyans  have spoken  with nationalistic and the results whether reversed by the Supreme Court or upheld by the supreme court will always go down the memory lane that IEBC of 2013 conducted a  clean elections..
It has now dawned on the Open Society Foundation operatives in Kenya under KPJ that they laid to their CIA sponsored boss George Soros that Uhuru and Ruto would never win an election in Kenya. They were proved wrong by the will of Kenyans.  Looking at the list of so- called civil Society that filed the petition in the Supreme Court Kenya against Uhuru Kenyatta victory one does not need to be a rocket scientist  to know which side they have campaigned for in Kenyan politics they are all affiliates of Kenyatta's opponents.
These sons and daughters of soil are the same ones who teamed up with the former prosecutor Luis Moreno Ocampo and Fatou Besouda to frame fake charges against Uhuru and Ruto. They are the same ones who told Kenyans not to vote Uhuru and Ruto because of the fear of "imaginary sanctions" from their foreign funders.
Open Society Foundation bosses in Kenya have serious reasons to worry because the lied to George Soros that they had done their homework well and Uhuru Kenyatta will never win.  The intelligence that I gathered shows how OSF funded some media houses in Kenya to tilt and tarnish the image of IEBC in the event of victory of Uhuru Kenyatta.
Kenyans must now open their eyes and ask questions as to why after 50 years of independence one needs mouth pieces of African traitors who speak on behalf of George Soros? The civil society of Kenya has exposed that feeds on the ignorance of the poor and the poverty stricken Kenyans.
I must set the record straight that Kenyan elections have given East Africans and African hope and pride. The manner in which the IEBC of Kenya conducted the 2013 Elections has never been elsewhere in Africa and in other countries where I have observed and monitored elections.
We must as Africans rely on own institutions and give them credit instead of using foreign sponsored NGOs to mutilate and prostitute  names of good constitutional organs of our countries.
Kenyans therefore should reject organizations like OSF that has other ulterior motives in Africa.  There agents in these case are Africog who have used the ignorance of Africans build palatial homes out of the money of George Soros. They create conflicts and send their families to Europe leaving ordinary Kenyans dying.
Thanks
Dr. David Nyekorach – Matsanga.
International Media Analyst during  Kenya Elections 2013
Chairman /CEO
Pan African Forum Ltd & Africa world Media Ltd
+44(0)7930901252
+254(0)723312564
Surrey England
africastrategy@hotmail.com
dr.davidmatsanga@yahoo.com