08

07

MARAGA'S JUDICIARY MUST BALANCE LEGAL &NATIONAL INTERESTS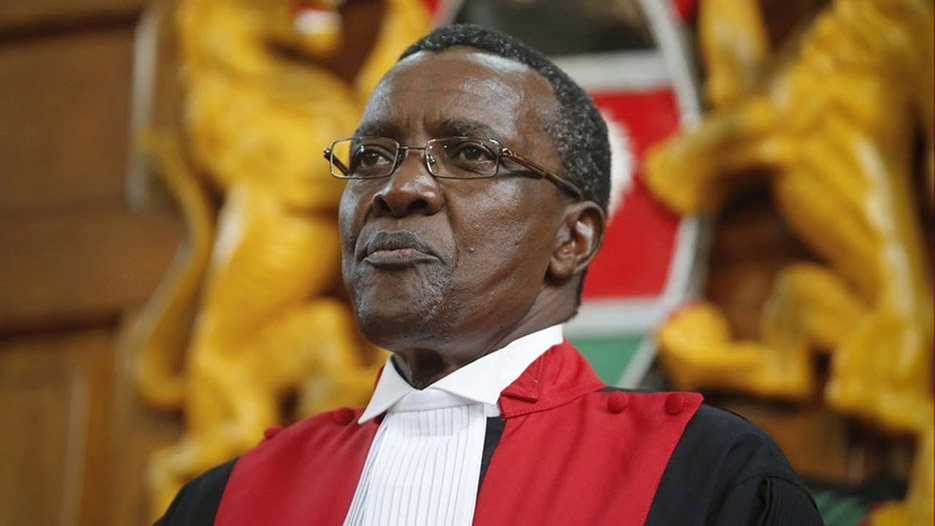 I must confess that I have taken on a hard subject of Corruption in the Kenyan Judiciary in order to leave a mark on the society of Kenya as as a scholar. In doing so I have received threats and other related actions that don't want to fight corruption in Africa
There are those scholars and senior professors in Africa who have decided "to eat with enemy" of the people of Kenya and Africa at large but for me I will speak my mind to help President Uhuru Kenyatta and the people of Kenya in the fight against corruption .This I will do until the last iota of my blood.
I can now remember the days when rushed to the underground tube stations of London to study a subject of Political science that my late father had commanded me to study before his abrupt demise .
I first wanted to study Law to defy my father but I remembered the African curse and instead grabbed some few semesters on CONSTITUTIONALISM as part of my studies in United Kingdom.
Little known to me was that one day I would publish a document educating a Chief Justice of a Country in Africa on how to BALANCE LEGAL & NATIONAL INTERESTS when there is a crisis like the one on CORRUPTION in Kenya.
Chief Justice Maraga needs such critical documents in order to put his Judiciary team in order....Yesterday I published the GOAT EATING SAGA and how Judges and Judiciary are being compromised by the same looters and cartels who fly by helicopters to these functions and lecture to the hapless judiciary
CONSTITUTION IS THE BASIC LAW OF KENYA
The constitution is the basic law of Kenya. It sets forth the basic values and order of the nation and defines the governing organization and principles to guarantee citizens basic rights.
Therefore, no public power should violate the constitution. No exercise of public power, including that of the legislature should violate the constitution.
Constitutional adjudication system must necessarily protect the constitutional order by deciding constitutional matters based on principles set out in the constitution itself.
Constitutional adjudication system serves as the most important means to protect the constitution by guaranteeing basic rights. An ideal system also protects abuse of public power by ensuring that the conduct of political power is within the confines of the constitution.
GOOD JUDICIAL SYSTEM
Therefore, a good judicial system is an indispensable ingredient of national governance alongside the legislative arm,the principle of separation of powers, a credible election system, working anti corruption bodies and a patriotic civil society.
For the rule of law to take deep roots in the republic of Kenya, all substantive governmental power, including that of judiciary should be subjected to constitutional imperative of protecting the sovereign will of the Kenyan people.
SINGLE CORRUPT INDIVIDUAL
Judiciary should not allow a situation where exaggerated rights of a single corrupt individual are elevated above interest of the entire nation. Kenya needs a clearly defined constitutional court of corruption with jurisdiction over judicial review, impeachment of senior public officers, including cabinet secretaries, principal secretaries, members of Parliament, commissioners of constitutional commissions etc.
EXAMPLE
DILUTED ROLES ON CONFLICTS
The mess we see in counties could be resolved by any good Judiciary in less corrupt systems in Western Europe. A court that arbitrates disputes between state agencies and county authorities and constitutional complaints relating to power tussles between the two levels.But in Kenya it seems all Governors will end in Kamiti Prison because nobody has taught them what to do and instead use the huge money to create more confusion and corruption in courts
When conflicts arise between (national)state and county governments and state agencies over duties and functions of each, a serious jeopardy is posed to the principle of checks and balances, a paralysis to important governmental function and a threat to the basic rights and freedoms of the people.
SCOK HAS FAILED KENYA UNDER 163(6)
Such a system could give impetus to Article 189 of the constitution on cooperation between national and county governments. It is important to clarify that this role is relegated to the Supreme court under Article 163(6) which provides that "The Supreme Court may give an advisory opinion at the request of the national government, any state organ, or any county government with respect to any matter concerning county government."
CITIZENS OF KENYA LOCKED OUT
A careful look at the above Article reveals that ordinary citizens of Kenya have been locked from seeking constitutional remedy on a very important matter since it is only the national government, state organ or county government who can get court's audience in this regard! What if both levels collude to exercise authority outside the boundaries of the constitution? This is where CORRUPTION STARTS IN JUDICIARY
ANTICIPATORY SAGA AND ORDERS IN JUDCIARY
Any lay man on law or legal matters would ask what is the weight of an advisory opinion as opposed to a court order or a decree? What is the weight of an anticipatory order that stops certain levels of citizenry from arrest and protects the rich ? Why has Chief Justice Maraga and Supreme Court failed to interpret the anticipatory order saga?
WHY MIX CONSTITUTIONAL& CORRUPTION COURTS
It is important to separate the constitutional and corruption courts each having it is own direction so that things like constitutional matters are separated from corruption cases . Such a court can have powers of adjudication in matters related to corruption only without having attachment to bail or other matters that could be Re solved in the constitutional courts.
WHY DPP HAS LOST CORRUPTION CASES?
It's the lack of clearly defined constitutional court that has made things muzzled up in most corruption cases in Kenya . Cases where prosecution has to face the same Judge who decided on bail and same judge gives anticipatory orders . This disadvantages the DPP .
SEPARATE THE COURTS
A good Chief Justice should have separated entirely the constitutional court and anti-Corruption court so as they serve better Justice to Kenyans . The Anti-Corruption court should be assigned its direct jurisdiction in order to deal with looters harshly .
The constitutional court should only be there to protect the constitution, the country, for the interest of peace and balance security interests of the nation verses the corruption cases that become a burden to the country ? Chief Justice Maraga should study such areas and seek redress through advisory role.
ECONOMIC CRIMES BE EXPEDITIOUSLY DONE
More important, such a court should have a department exclusively dealing with matters of corruption not mixed with constitutionalism . Economic crimes cases should be expedited on a daily basis and should be fully heard and determined within a period of maximum three months so that the looters don't seal loopholes in the constitution.
OUR CONTRIBUTION AGAIST CORRUPTION
As a Pan African I do not merely criticize the Judiciary but I also offer solutions to my level best.This does not mean the above enumerated issues may not be catered for in the Kenyan judicial system. But the corrupt Judges don't see them or just see them but misuse them in their rulings.
The constitution may have them ...but scattered in a haphazard manner and they need the interpretation by the HEAD OF JUDICIARY who is Chief Justice.That is my import for a constitutional court and a proper Anti-Corruption court in Kenya like it is the case in Ethiopia and Rwanda. Let us help President Uhuru Kenyatta to fight corruption
God bless Kenya
Dr.David Matsanga 
Chairman Pan African Forum Ltd 
London United Kingdom 
Sunday 8.07.2018!

Tel: +447930901252
Tel: +254723312564
africastrategy@hotmail.com.
dr.davidmatsanga@yahoo.com.
www.panafricanforumltd.com.
www.africaworldmedia.com
www.africaforumonicc.com
Follow Me On:
Twitter: https://twitter.com/MatsangaDr